Sirba Orchestra !
The Sirba Octet with Orchestra and Balalaika
Creation: 2017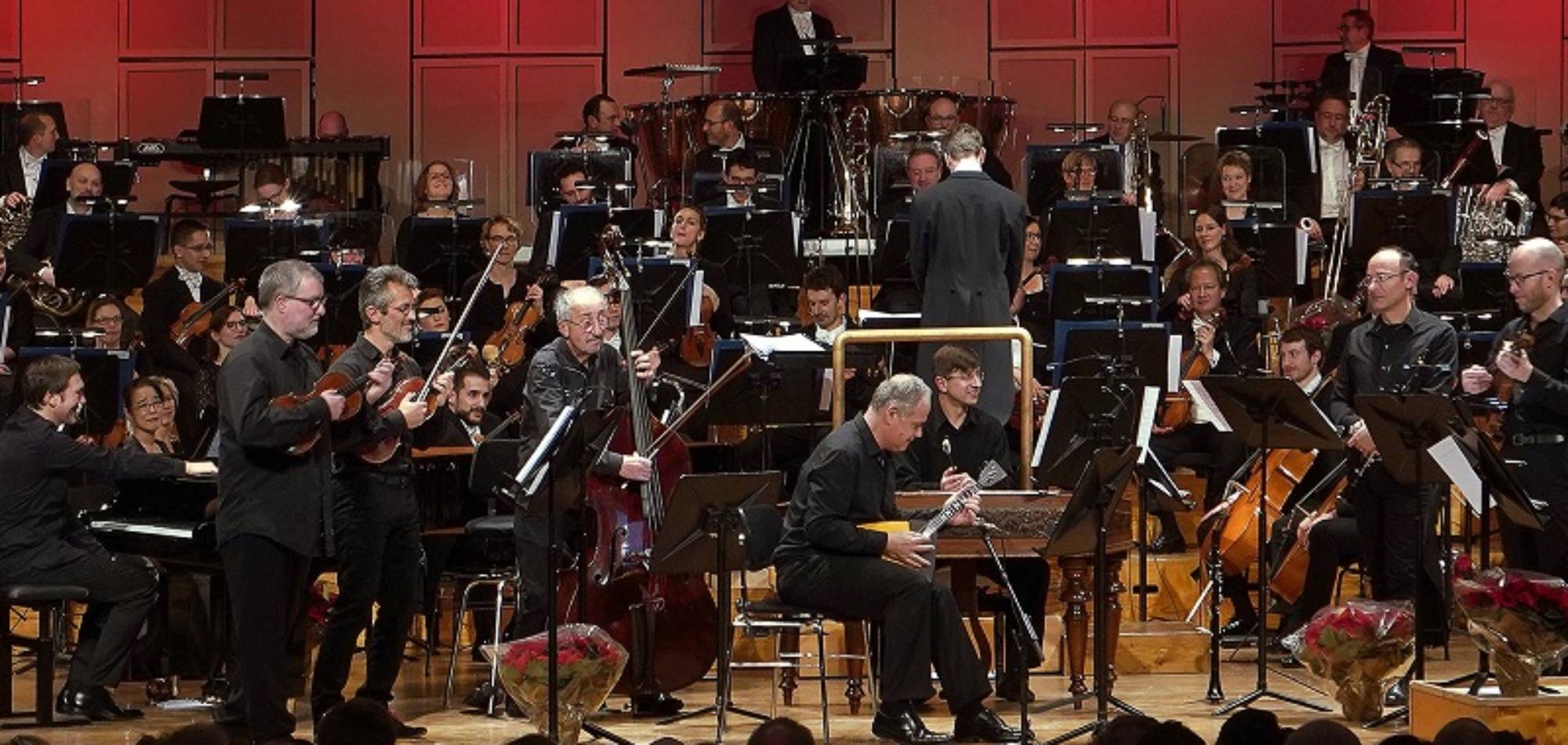 A collection of the best loved melodies of Cabaret Tzigane and klezmer music, Sirba Orchestra ! is a collaboration between the Sirba Octet, a full symphony orchestra and one of the best balalaika players, Nicolas Kedroff.
THE ESSENCE OF KLEZMER AND SLAVIC MUSIC
Sirba Orchestra! is distinguished by its unprecedented collection of Cabarets Tziganes and Klezmer wedding music. Forward looking and filled with hope, these melodies are arranged to compliment the showpiece – an anguished prayer from the Warsaw ghetto songs.
Well known tunes from the canon of Russian music combine with a prolific collection of traditional Eastern European music returning to tunes such as Les Yeux noirs, Le Temps du muguet, Kalinka, Hava nagila. Sirba Octet, orchestra and balalaika, performing separately and as a full ensemble, present a show that is by turns convivial, lamenting and fervent.
CABARET TZIGANE & KLEZMER WEDDING MUSIC
Nicholas Kedroff, one of the world's finest balalaika players joins the Sirba Octet for this celebratory show. The Russian balalaika is a magical instrument and Kedroff performs some outstanding solos.
Sirba Orchestra! opens up a musical tradition that is prolific, moving and convivial and navigates an array of emotions from joy to nostalgia through love and jewish humour. A kaleidoscope of themes and variations from Moldova, Romania, Hungary and Russia skilfully arranged by Cyrille Lehn.
A highlight of the ensemble's 2015 season, Sirba Orchestra! saw the octet join forces once again with the Orchestre de Pau – Pays de Béarn for a commission never-before seen in Eastern European music. This series of virtuoso performances conducted by Faycal Karoui, loyal friend of the Sirba Octet, took place at the Palais Beaumont de Pau from 16th to 19th June 2015.
Up-coming performances of Sirba Orchestra!

 :
10th June 2017 at the Festival des Fougères Musicales with the Orchestre de Bretagne conducted by Grant Llewellyn
15th and 16th December 2017 with the Orchestre Royal Philharmonique de Liège conducted by Christian Arming