Sirba Orchestra !
The Sirba Octet with Orchestra and Balalaika
Creation: 2017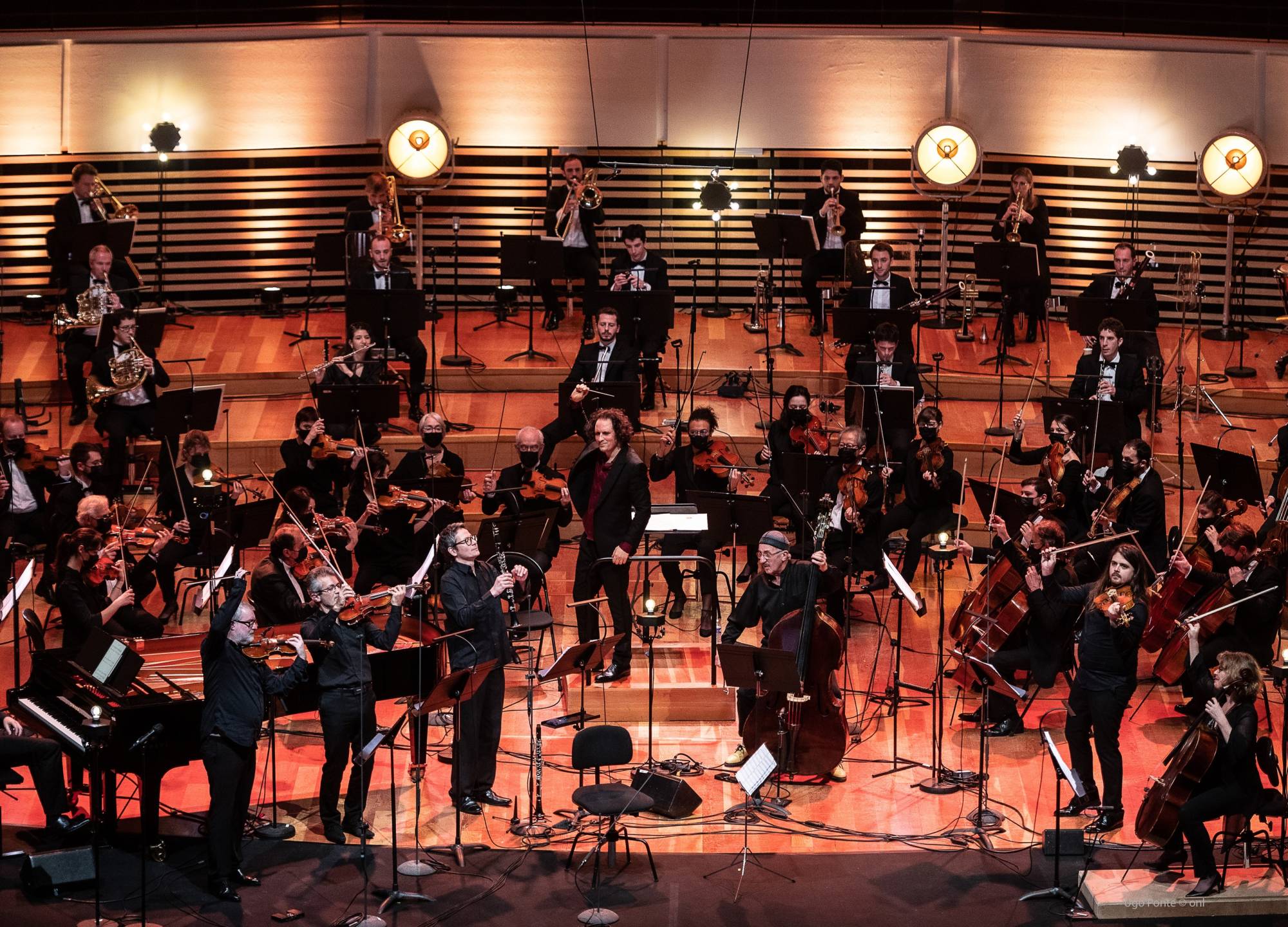 A collection of the best loved melodies of Cabaret Tzigane and klezmer music, Sirba Orchestra ! is a collaboration between the Sirba Octet, a full symphony orchestra and one balalaikiste.
RUSSIAN, KLEZMER & GISPY MUSIC
In 2015, the friendship binding the Sirba Octet to the Orchestre de Pau /Pays de Béarn led them to create a new program : Sirba Orchestra !, at the heart of Russian, Romanian and Moldovan melodies and Ashkenazi traditions.
Sirba Octet invited one balalaikiste and its magical instrument from Russia, to sublime a few numbers. A borderless path with multiples tones, festive, melancholic or passionate. Songs and poems orchestrated for unpublished versions that use all the musical and expressive resources of the symphony orchestra. A Russian cabaret which celebrates love songs – Otchi Tchornye (Dark Eyes), Ja Vstretil vas (I met you) or Kalinka – and its indispensable romances such as Cocher ralentis tes chevaux or Katioucha – a young girl in love with a soldier gone on duty to defend his homeland…
Numerous life stories and emotions gathering around the central Yiddish orchestral piece Gayen zay in shvartze Reien, a ghetto song both illuminating and deeply moving. Drawn from the Jewish folk songs that made the Barry Sisters, Sirba Octet reinterprets Zug es Meir Noch Amool (Tell Me One More Time) and thus establishes a musical bridge in a Yiddish 50's Jazz feel.
Gipsy Russian cabaret and Romanian or Moldovan traditional dances
The Sirba Octet, the orchestra and the balalaika answer to each other successively and naturally slide towards Gipsy Russian cabaret repertoire – notably with the famous song Valenki (Felt Boots), written by nomad gypsies – and Romanian or Moldovan traditional dances – Tata vine pastele (Daddy, Easter Is Coming !) and the Suite de Moldavie, a medley of Doinas, songs that originated amongst shepherds.
The Sirba Orchestra program! recorded with the Royal Philharmonic Orchestra of Liège directed by Christian Arming and Nicolas Kedroff at the balalaika was the subject of new orchestrations and a contribution of five unreleased tracks for this new album published by the Deutsche Grammophon label on May, 2018 , whose release was followed by a concert on Saturday, June 16, 2018 at the Musical Seine of Boulogne-Billancourt. Sirba Orchestra! is invited by many symphonic orchestras in France and abroad.
SIRBA ORCHESTRA! A MEETING WITH THE ORCHESTRAS:
Orchestre de Pau / Pays de Béarn, conducting by Fayçal Karoui in 2015,
Orchestre de Bretagne, conducting by Rudolf Piehlmayer in 2017,
L'Orchestre Philharmonique Royal de Liège, conducting by Christian Arming (Belgium and France) in 2018,
L'Orchestre Symphonique National du Tatarstan, conducting by Alexander Sladkosvsky at the Folle Journée Nantes & Tokyo in 2019,
L'Orchestre Victor Hugo Franche-Comté, conducting by Jean-François Verdier, in 2020,
L'Orchestre de Cannes, conducting by Benjamin Levy, in 2020
Le WDR Funkhausorchester (Allemagne), conducting by Enrico Delamboye, in 2020,
L'Orchestre Philharmonique des Hauts-de-France, conducting by Jean-Pierre Wiart, in 2020,
L'Orchestre Symphonique de l'Aube, conducting by Gilles Millière, in 2020,
L'Orchestre National de Lille, conducting by Alexandre Bloch, 7 concerts in 2021…