Sirbalalaïka
Sirba Octet & Balalaïka
Creation: 2019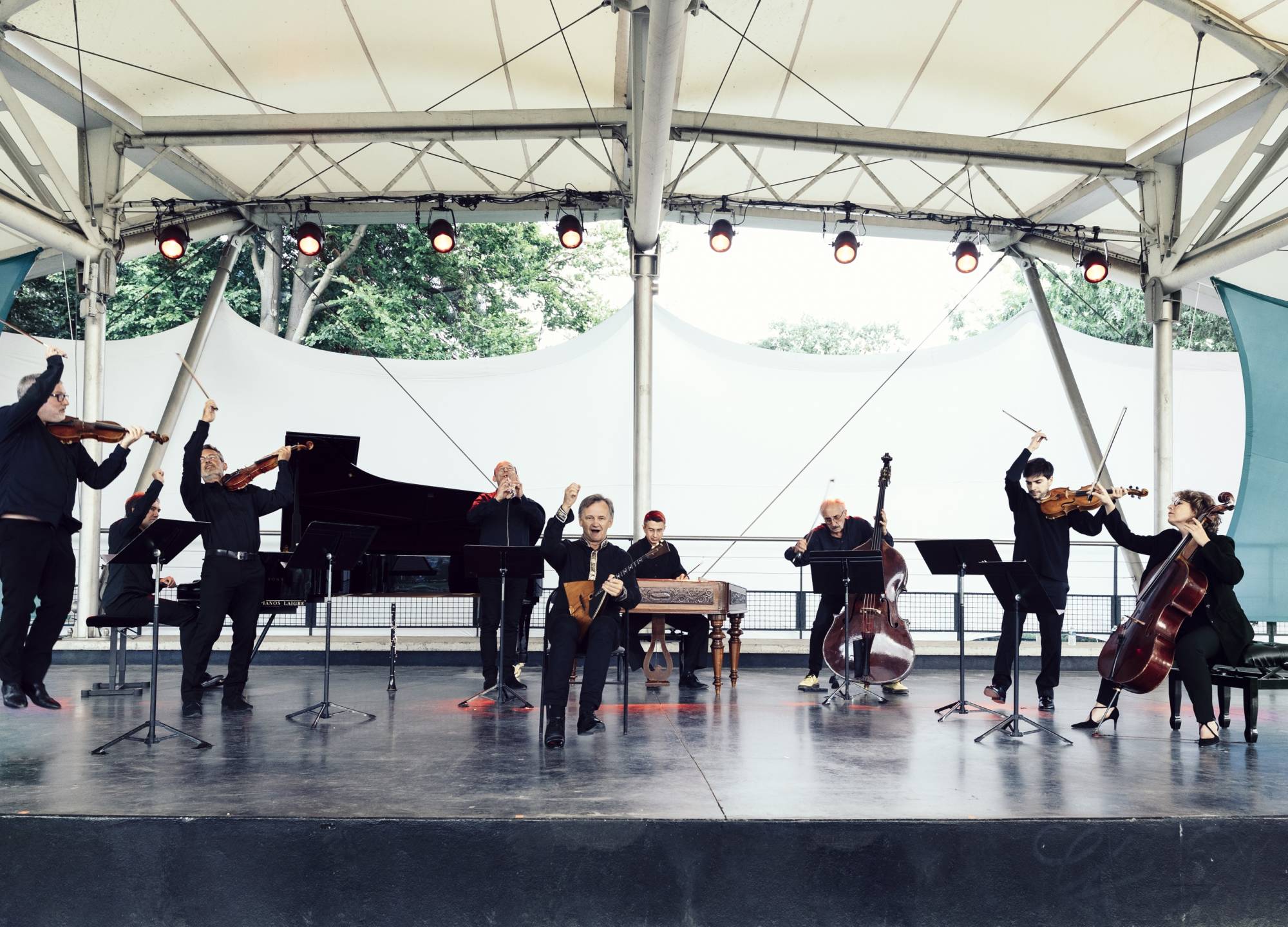 Sirbalalaïka, a new project for Sirba Octet and the balalaika, a musical emblem of Russia. In Sirbalalaïka, Sirba Octet decided to bring together standards of Russian, tzigane and klezmer music, inviting a balalaikist to perform some of the pieces closely bound to this folk culture.
"Music is energy in its purest form. In this show, it powers itself." Richard Schmoucler
It follows on from Sirba Orchestra!, a project for which Sirba Octet was joined by Alexei Birioukov and his balalaika, this time without the orchestra but with an equally irresistible energy! Sirbalalaïka breathes life into music that is full of contrasts, in its rhythms as well as its emotions, ranging from joy to tears.
EMOTIONS FROM THE VAST EASTERN EUROPEAN LANDS
The project spans the dizzying pace of this music designed for dancing, with tempos both wild and slow also embracing the melancholic and joyous emotions of the vast Eastern European lands.
Sirbalalaïka revisits musical gems with a range of accents – festive, melancholic, passionate. A collection of Russian airs celebrating the love songs, Otchi Tchornye (Dark eyes), Ya Vstretil vas (I have met you), Kalinka (My little berry), and the great romances Cocher, ralentis tes chevaux (Coachman, slow your horses), and Katioucha, a young woman in love with a soldier who has departed to do his duty and defend his country…
So many stories full of life and emotions are encapsulated in the central Yiddish piece, Gayen zay in shvartze Reien, a song from the ghetto, which is both luminous and heartrending. From traditional Jewish music, Sirba Octet returns to, among others, Azol Tanzmen, with its authentic sound, rounded and warm, which centres on an unusual dialogue between the clarinet and the double bass.
FROM AMID THESE PIECES, ARISES A POIGNANT SONG OF THE GHETTO
With Sirbalalaïka, the Sirba Octet offers an eclectic journey across Eastern Europe. The musicians and their guest balalaikist converse as they weave pieces together, moving naturally from Russian tzigane cabaret, and the famous Valenki (Felt boots) written by nomadic gypsies, to traditional Romanian and Moldovan dances, Tata vine pastele (Papa, Easter is coming!), Suite de Moldavie (Moldovian suite) and even medleys of Doinas and Sirbas, songs that came from the shepherds. And so, from among these festive and melancholic tunes, arises Gayen zay in shvartze Reien ('They march in the gloomy rain'), a poignant song of the ghetto, painful and yet full of light.
A series of concerts is coming to La Scala, Paris from 27th to 29th November 2020.
Sirba Octet and Alexeï Birioukov have previously performed Sirbalaïka at:
La Folle Journée de Nantes 2019
La Folle Journée de Tokyo 2019
Les Flâneries Musicales de Reims
Le Festival International de piano de la Roque d'Anthéron
L'Abbaye de Sylvanès
Le festival TSB de Montceau-les-Mines…