Press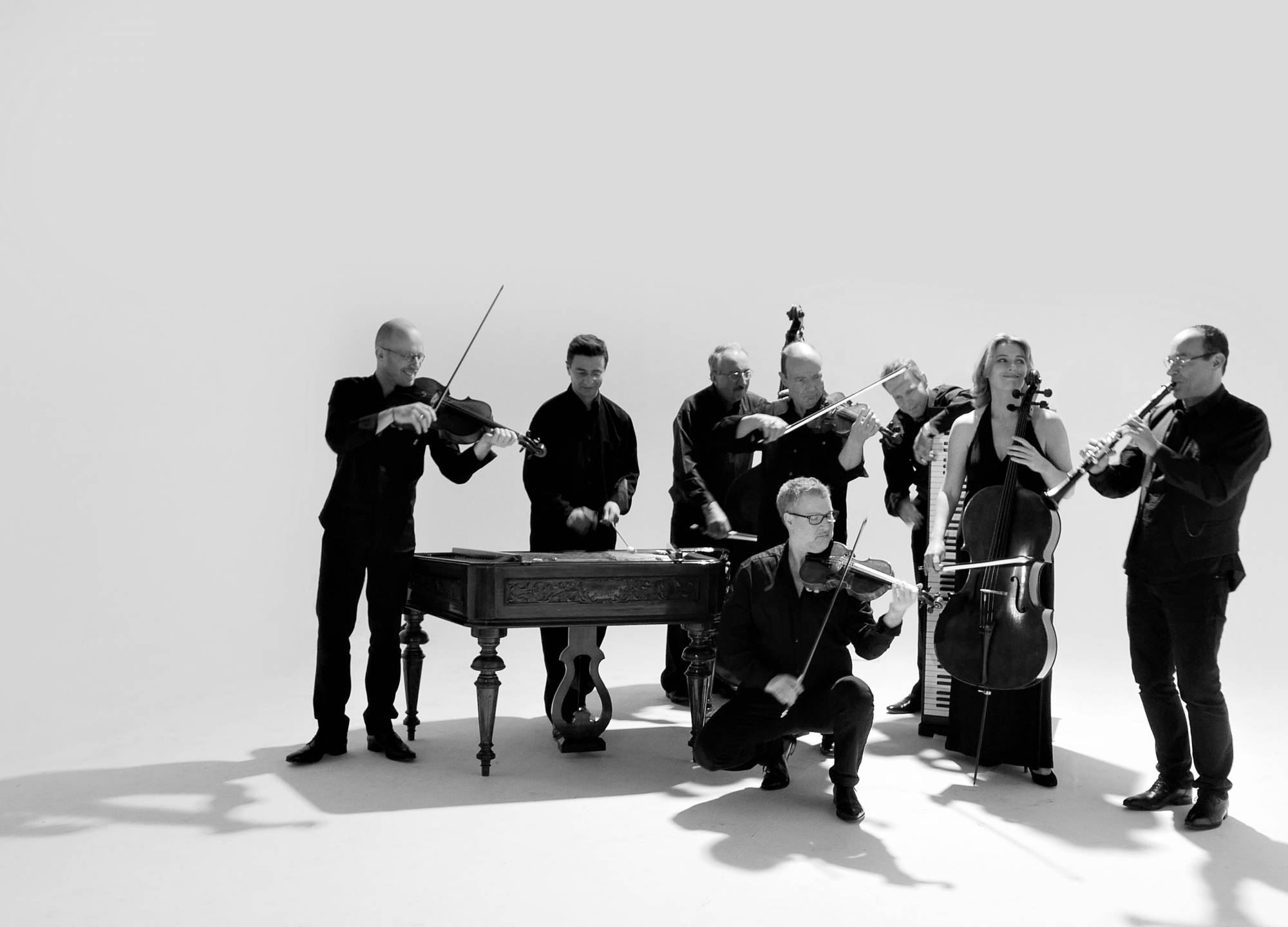 They talk abous us
in Le Figaro :

D'Europe centrale à Broadway
Tantz !
A great work of art
Jean-Luc Caradec,
La Terrasse, november 2015
A sophisticated sound with rhythmic precision and musical prowess. In the
hands of the Sirba Octet's classically trained musicians (almost all of whom are members of the Orchestre de Paris), this klezmer and gypsy music flourishes, brightens and sparkles like a freshly cut diamond.
An outstanding gipsy fantasia
Christian Merlin,
Le Figaro, november 2015
One of the most uplifting albums released in years. Tantz! is the most
accomplished of Sirba Octet's works. […] A magnificent example of successful musical fusion. The whimsical nature of gypsy music and the precision of classical have never married so well. Surrender to its joyfulness where nostalgia is never far away.
Dansons la musique classiqueworld !
Jean-Christophe le Toquin,
ResMusica, 8 january 2016
Un contraste émotionnel typique de ces musiques, et un croisement entre savoir-faire de la musique classique et vitalité de la musique du monde, qui sont bien en phase avec les besoins de notre époque.
Let's dance to classical world!
Jean-Christophe le Toquin,
ResMusica, january 2016
The sophistication of classical meets the vivacity of world music. Emotionally contrasted, Tantz! is typical of its traditional roots but also perfectly in tune with our modern era.
Télérama
Anne Berthod,
Télérama, april 2017
Toute l'énergie tournoyante de ces danses populaires et du folklore yiddish, dont ils revisitent des thèmes emblématiques, exulte avec virtuosité, nimbée de l'élégance de la musique savante occidentale.
The Sirba Octet makes folk music dance
Anne Berthod,
Télérama, 2015
They have reinvented klezmer folk and classic gypsy music, turning moving
ballads into whirling dances […] Tantz! offers its audience a taste of the octet's repertoire with its classical elegance, boundless energy and consummate lyricism.
The wild dances of the Sirba Octet
Philippe Venturini,
Les Échos, november 2015
As foretold by the Yiddish title and its exclamation mark, like a declaration of intent, Tantz! really gets your toes tapping […]. A first-class trip led by the
astonishing talent of every single musician.
These musicians show that having roots in one musical culture doesn't stop them embracing a broader range of styles and sounds
Les Inrocks, november 2015
The volleying cimbalom, the hiccupping klezmer clarinet, the giggling violins and the deep bumblebee drone of the double bass are performed as chamber music. A musical fantasia with an element of chaos that makes it hopelessly nostalgic of Eastern Europe.
A Yiddishe Mame
Deliciously nostalgic
François Lafon,
Le Monde de la musique, january 2005
These pieces of music possess an ephemeral quality – the dreamy weightlessness of the calm before the storm.
The Yiddish fiddle
Yutha Tep,
Cadences, january 2005
A tour de force for the Sirba Octet – sophisticated arrangements executed
with astonishing freedom of interpretation.
Wandering minstrels on the rooves of Paris
La Voix du Nord, january 2006
The exceptionally talented musicians who make up the Sirba Octet […] gave a
colourful performance. […] They take us on an expressive and informative
journey guiding us with clever musical tricks. Letting the instruments the lead their renditions are at times nostalgic and touching, at times comical. The audience goes away with an indescribable energy and vitality.
Educational and artistic activities
Classical music taster workshops in the banlieues
Marine Chassagnon,
Le Figaro, february 2016
The second Iurie Morar struck the cimbalom the young, chattering audience
fell silent. They stared curiously at the instrument and kept their ears wide
open.
France 3 – Iurie Morar, Cymbaliste rencontre scolaire
France 3, 2013
Two classes of 11 to 12 year olds from Collège Jean-Moulin meet the weird and wonderful cimbalom
Serge Carpentier,
La Voix du Nord, january 2016
This project was run by guest musicians and young actors to teach the basics
of music. Together, artists and participants made up stories using a range of
musical moods heard throughout the session.
Yiddish Rhapsody
Pure emotions with Sirba Octet
Sylvain Fanet,
TGV Magazine, january 2009
Jubilant and unconventional, the show revisits traditional folk songs and
really sets the stage alight.
Sirba Octet & Isabelle Georges
Dan Renier,
Regardencoulisses.com, october 2009
[…] Yiddish Rhapsody lavishly pays tribute to the world of Yiddish music. […]
Swing numbers and tap dancing are in there as well, whisking the audience off at a frenetic pace.
There is more to Yiddish than the language. There is the music.
Michel Jonasz,
january 2009
There is more to Yiddish than the language. There is the music. This music is
the soul of the people, their culture, their history, their roots, their way of life and their way of singing about life. Amid smiles and tears, it rejoices in love and relishes life… Yiddish Rhapsody is a musical bridge between past and present, what we are and what we dream of becoming, like the family ties that bind us forever.
Du Shtetl à New York
Le Sirba Octet, d'Europe centrale à Broadway
Christian Merlin,
Le Figaro, october 2009
Quand ces musiciens de l'Orchestre de Paris jouent de la musique juive ou celle de Broadway, on n'a pas l'impression d'une greffe qui aurait mal pris. C'est qu'ils arrivent à une synthèse rare entre la rigueur de l'instrumentiste classique et la fantaisie du musicien populaire.
Sirba Octet & Isabelle Georges
Dan Renier,
Regardencoulisses.com, october 2015
The closing song Bei Mir Bist Du Scheyn is a real gem in which a traditional
tune blends with Isabelle's modern vocals and explosive tap dancing.
The Sirba Octet – from central Europe to Broadway
Christian Merlin,
Le Figaro, october 2009
When these musicians from the Orchestre de Paris turn their hand to Yiddish pieces and Broadway numbers, it doesn't feel like an awkward transposition. They've achieved a rare concoction – the precision of the classical musician with the creativity of the amateur.
The Sirba Octet pours its energy into Yiddish music
CLAIRE WYNIECKI,
La Croix, november 2010
In musical theatre, we say, "Talk. And when words are no longer enough, sing. And when singing is no longer enough, dance."
Yiddish music that sparkles
Céline Doukhan,
Les Trois Coups, july 2012
We all love Isabelle Georges and her mischievous streak – while she relates to
her audience and fellow musicians in a way that is both compassionate and
charming, she also throws in a few nods to Broadway (wearing top hat and
tails with a giant flower in the buttonhole for the dazzling I Got Rhythm).
Catherine Lara at the heart of the Yiddish soul
Au coeur de l'âme yiddish by Catherine Lara
Jean-Luc Caradec,
La Terrasse, april 2013
Catherine Lara returns to some of her most beautiful songs, well-travelled
melodies woven into wonderful arrangements where melancholy is never far
from childhood joys and love of life rubs shoulders with abject suffering.
Uncovering the world of Talila and Lara
Alexandra Schwartzbrod,
Libération, december 2012
With Au coeur de l'âme yiddish Catherine Lara – the rock chick in diamonds –
along with Richard Schmoucler's Sirba Octet returns to her repertoire
(including La craie dans l'encrier, Nuit magique and Johan) for two live
shows at the Alhambra on 12th and 13th April.